Aqueduct Racetrack
110-00 Rockaway Blvd
Jamaica, New York, 11417
USA

(718)-641-4700



---
Racing Dates: 2011-01-01 until 2011-04-23
Number of Racing Days:


---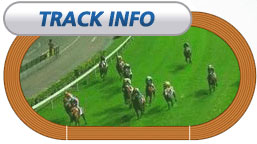 Track Length:
1 1/8 Miles
Stretch Length:
1,156 feet
Stretch Width:
Infield Capacity:
Clubhouse Capacity:
Grand Stand Capacity:
Parking Capacity:
8000
Price General Admission:
Price Clubhouse:
$2
Price Turf Club:
Aqueduct Racetrack History
The nomenclature of Aqueduct Racetrack has its origin in the southwestern Queens neighborhood of South Woodhaven where a medium for the Brooklyn Water Works was built in the 1850s.
Originally opening in the nearby South Ozone Park on September 27, 1894 on land leased from the descendants of the original Dutch inhabitants of the area, Aqueduct Racetrack has its new track offices and a clubhouse built in 1941.
The track was demolished in 1956 to give way to a $33 million racetrack that was opened in 1959. Becoming one of the nation's premier horseracing tracks by 1960, Aqueduct had its inner turf course constructed in 1975 to facilitate winter racing.
The race track was designed in the year 1959 by racetrack architect Arthur Froehlich. Further renovations were made in the years 2001,2006 and 2007.Prior 1976, Inner Dirt Track was a turf course and was called Main Turf Course. In the year 1975, the grass on the Main Turf Course was uprooted and was replaced by the Inner Dirt Track in order to allow a year round racing.
More About Aqueduct Racetrack
Attendance Capacity: 40,000; Trackside Dining: 1,200; Total Seating Capacity: 17,000; Turf Course: 1 Mile, Steeplechase/Inner Turf Course: 7/8 Mile; garden terrace restaurant, food courts, bars, clubhouse
How to get there:
From Manhattan: Take Midtown Tunnel to Long Island Expressway East, to Van Wyck Expressway South, Exit #3 Linden Blvd. Turn right on Linden and follow signs to track. From Queens: Take Grand Central Parkway to Van Wyck to Linden Blvd. and follow signs. From Brooklyn: Take Belt Parkway to Exit 19. From Long Island: Take Belt Parkway to Lefferts Blvd. Exit 18-B and follow signs. From Connecticut and Westchester: Any route to Whitestone Bridge. Take Whitestone Expressway to Van Wyck Expressway to Exit 3, Linden Blvd. From North New Jersey: George Washington Bridge to Cross Bronx Expressway, to Throgs Neck Bridge to Cross Island Parkway South to Belt Parkway westbound. Exit 18-B and follow signs. From Staten Island And South New Jersey: Verrazano Bridge to Belt Parkway eastbound. Exit 19 and follow signs.