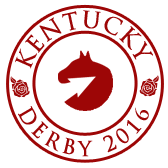 Bet on the Kentucky Derby!
"The most exciting two minutes in sport!"
Get in on all the action -
join today!
Kentucky Derby 2018
Where:
Louisville, Kentucky at the
Churchill Downs
When:
-202
Days until the
Kentucky Derby
runs on Saturday, May 5th, 2018 .
Watch:
See it on TV with NBC at 5:00 p.m. Eastern Time.
Bet: Our are Live in our Sportsbook!
Kentucky Derby Betting Starts Now!
Bet the 2018 Kentucky Derby here at Go Horse Betting. Don't wait for the day of the big race to start your wagering process, here you can bet on the Kentucky Derby today! We offer an expansive selection of horse racing props, futures, head to head matchups and even odds to win the Kentucky Derby. Get the best Kentucky Derby odds possible and have a great time celebrating the 2018 Kentucky Derby at Churchill Downs and the Triple Crown of horse racing with Go Horse Betting.
Kentucky Derby Purse Structure

| Result | Purse of $2,180,000 |
| --- | --- |
| Winner | $1,240,000 (62%) |
| Second | $400,000 (20%) |
| Third | $200,000 (10%) |
| Fourth | $100,000 (5%) |
| Fifth | $60,000 (3%) |
2018 Kentucky Derby TV Schedule
Date
Time (ET)
Races
Provider
May 4
4:00 pm - 5:00 pm
Classic Horse Racing: Kentucky Derby
NBCSN
5:00 pm - 6:00 pm
2016 Kentucky Derby Post-Position Draw
NBCSN
May 5
4:00 pm - 5:00 pm
Kentucky Derby Classics
NBCSN
5:00 pm - 5:30 pm
Kentucky Derby Access
NBCSN
May 6
8:00 am - 10:00 am
Derby Countdown Show
HRRN
9:30 am
Kentucky Oaks Day Coverage
HRTV
4:00 pm - 5:00 pm
Derby Classics
NBCSN
5:00 pm - 6:00 pm
2016 Kentucky Oaks
NBCSN
May 7
9:30 am
Kentucky Derby Day Coverage
HRTV
11:00 am - 4:00 p.m
Kentucky Derby Undercard
NBCSN
4:00 pm - 5:00 pm
Access at the Kentucky Derby / Red Carpet Special
NBC
5:00 pm - 7:00 pm
2016 Kentucky Derby
NBC Sports
7:00 pm - 8:00 pm
Kentucky Derby Post Show
NBCSN
*All times and dates are subject to change
Saturday, May 7th, 2016, KENTUCKY DERBY DAY Race Schedule

| Race# | Post Time | TV | Race | Age/Sex | Distance | Surface |
| --- | --- | --- | --- | --- | --- | --- |
| 1 | 10:30 | HRTV | MdSpWt | 3up | 6.0 | Dirt |
| 2 | 11:00 | HRTV | MdSpWt | 3up | 8.0 | Dirt |
| 3 | 11:30 | NBCSN | OC $75k/N1X | 3yo | 8.5 | Dirt |
| 4 | 12:04 | NBCSN | OC $75k/N1X | 3yo | 7.0 | Dirt |
| 5 | 12:38 | NBCSN | OC $100k/N2X | 3yo | 8.5 | Dirt |
| 6 | 1:19 | NBCSN | G3-Twin Spires Sprint | 4up | 5.0 | Turf |
| 7 | 2:08 | NBCSN | G1-Humana Distaff | 4up, f&m | 7.0 | Dirt |
| 8 | 2:59 | NBCSN | G2-Churchill Distaff Turf Mile | 4up, f&m | 8.0 | Turf |
| 9 | 3:51 | NBCSN | G2-Churchill Downs | 4up | 7.0 | Dirt |
| 10 | 4:46 | NBC | G1-Woodford Turf Classic | 4up | 9.0 | Turf |
| 11 | 6:24 | NBC | G1-Kentucky Derby | 3yo | 10.0 | Dirt |
| 12 | 7:20 | HRTV | OC $80k/N3$ | 3up | 8.5 | Turf |
| 13 | 7:50 | HRTV | Allowance N2$ | 3up | 6.5 | Dirt |
*$40 general admission