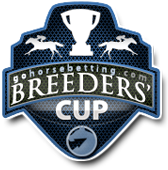 Bet on the Breeders' Cup!
"Win and you are in!"
Get in on all the action -
Breeders' Cup 2022
Where: Keeneland
When: The Breeders' Cup takes place on November 6th & 7th, 2021
Watch: See it on TV with NBC Sports & NBC

Go Horse Betting features the entire Breeders' Cup Challenge Series of horse races that lead up to the Breeders' Cup World Championship at Keeneland . The entire weekend comprises of 14 races that feature the greatest horses on the planet racing for the title of World Champion. It is the Super Bowl of horse racing, the World Series of equine sporting events and offers over $25 million in purses.

While the Breeders' Cup features the greatest horses on the planet, this poses a few challenges for horse racing fans who plan on betting. The good side is that Breeders' Cup usually offers big odds for horses that are unknown to North American racing fans. The bad side is every horse has won something in order to get here so eliminating Breeders' Cup Contenders from your potential betting field can be difficult. Here are the most common challenges casual bettors run into when betting on the Breeders' Cup at Keeneland .


Breeders' Cup Betting Challenge: So many races...
The Breeders' Cup is a two day horse racing event that features 14 races packed full of great horses. Day one is considered as "Ladies Day" and features six races including the
Breeders' Cup Distaff
. The second day features 8 races and ends with the pinnacle race of the tournament called The
Breeders' Cup Classic
. Betting on every race is tough for a seasoned punter and nearly impossible for the average casual bettor.
Breeders' Cup Betting Tip: Bet on races you know
Unless betting on horses is your full time occupation, you probably wont have enough time to research every single horse in every race. Bet on the races with the most horses you recognize and or know about. Focus on these races and bet big on the ones you are most confident with.
Breeders' Cup Betting Challenge: Champion Horses
Every race in the Breeders' Cup is made up of horses who won major races in their respective racing community. Do your best to eliminate contenders who have been inconsistent but rose to the occasion to earn a qualifying position in the Breeders' Cup.
Breeders' Cup Betting Challenge: Betting on Favorites
The Breeders' Cup may feature entire fields of champions in their respective racing communities however there are still huge favorites in some races. What Breeders' Cup favorites should I bet on?
Breeders' Cup Betting Tip: Favorites can cover your entire weekend.
Races that feature big favorites can cover your entire weekend bankroll so bet big on favorites and bet early to get the best
Breeders' Cup Odds
on them. Horses with similar histories to Zenyatta or Goldikova who had previously won the Breeders' Cup then continued on to be undefeated are the closest thing you will find to a lock in horse betting. Check out the odds to win, head to head bets and futures. They are arguably the best way to hedge a weekend worth of bets.
Breeders' Cup Betting Challenge: Nation vs Nation bets
Generally it is rare for a horse from Japan to race vs a Canadian or American horse and when they do, it is nearly impossible to guess which horse is better. Follow up on news articles related to travel difficulties and or illness for international traveling horses. Generally it is a good idea to stay away from horses that have travelled to Santa Anita from international locations unless they have arrived at least 3 weeks in advance. While Japanese horses have made a huge impact at racetracks in Dubai and Europe, they don't fair as well at North American races. While I feel they will eventually have a big impact in North America, it is generally better to bet with trends rather than guess when they will change. Stick to British, American and occasionally Canadian horses this Breeders' Cup.