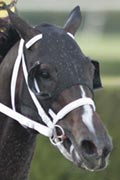 Big Drama
Trainer:David Fawkes
Owner: Harold Queen
Foaling Date: 2006-02-14
Pedigree: Montbrook and Riveting Drama of Notebook
Dosage: 5-5-7-0-1 (18)
Dosage Index / CD: 3.00 / 0.72



Notes:

Big Drama is a dark bay or brown colt. He is an American thoroughbr ed racehorse training at Calder Race Course.He is owned by his breeder, Harold L. Queen. He is sired by Montbrook and trained by David Fawkes. In 2008, at the tender age of 2, Big Drama won grade III Delta Jackpot Stakes, Affirmed Stakes, Dr. Fager Stakes and In Reality Stakes. He is a versatile performer and his brilliant performanc e has entertaine d spectators . He commenced 2009 finishing 2nd in grade II Swale Stakes at Gulfstream Park. Big Drama is a versatile performer, swift on the racetracks . He is a speedy colt and not a sprinter. He has never covered beyond 1 1/16 miles. In 2009, the 3 year old colt has raced once. In January, he kicked himself, suffering bone bruise on shin. After surgery he was on rest. Big Drama missed the Kentucky Derby. He is gearing up for the forthcomin g Preakness Stakes. He is blessed with tactical speed.
Statistics

| Year | Races Run | Wins | Place | Show | Earnings |
| --- | --- | --- | --- | --- | --- |
| 2011 | 1 | 1 | - | - | $60,000 |
| 2010 | 5 | 3 | 2 | - | $1,420,810 |
| 2009 | 5 | 1 | 2 | - | $358,500 |
| 2008 | 6 | 5 | - | 1 | $860,250 |