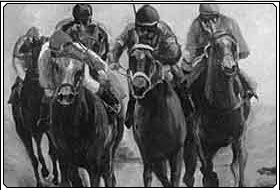 Big Truck
Trainer:Barclay Tagg
Owner: Eric Fein
Foaling Date: -
Pedigree: Hook And Ladder and Just A Ginny of Go For Gin
Dosage: 5-0-11-1-1 (18)
Dosage Index / CD: 1.40 / 0.39



Notes:

Big Truck, one of the contenders for this year's Kentucky Derby, is trained by Barclay Tagg, owned by Eric Fein and is ridden by Ramon Dominguez. It posted a win on August 23, 2007 at Saratoga Race Course by six and half lengths over Post Exchange. Sired by Hook and Ladder, this American racehorse is out of the mare Just A Ginny, a daughter of the 1994 Kentucky Derby winner, Go for Gin. During October 2007, in the Sleepy Hollow Stakes, Big Truck was upset by Giant's Moon to edge out for second by a nose. In the Big Truck's next race - the $200,000 Grade II Remsen Stakes, he was cut off by the first and third place finishers, Court Vision and Trust N Dustan to rank fourth. To qualify for the Kentucky Derby, Big Truck fought in the Sam F Davis stakes at Tampa Bay Downs. It stunned others by upsetting 1-9 favorite War Pass in the Tampa Bay Derby earlier this year.