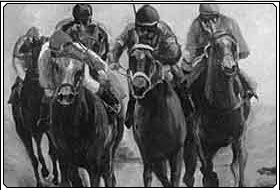 Calebs Posse
Trainer:Don C. McNeill
Owner: McNeill Stables
Foaling Date: 04-04-2008
Pedigree: POSSE and ABBEY\'S MISSY of SLEWACIDE
Dosage: 4-0-8-0-0 (12)
Dosage Index / CD: 2.00 / 0.67



Notes:

It is a horse bred by Posse - Abbey's Missy. Its sire is Posse and dam is Abbey's Missy. Its owner is McNeill Stables. At the age of 2,he ranked 1st in Clever Trevor Stakes. Ranked 3rd in Arlington- Washington Futurity. And also at the age of 3 he ranked 1st in Smarty Jones Stakes and stood 2nd in Rebel Stakes.
Statistics

| Year | Races Run | Wins | Place | Show | Earnings |
| --- | --- | --- | --- | --- | --- |
| 2011 | 3 | 1 | 1 | - | $71,504 |