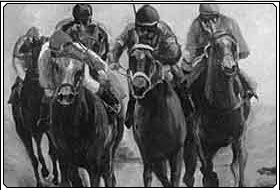 Decidedly
Trainer:Horatio Luro
Owner: El Peco Ranch
Foaling Date: 1959
Pedigree: Determine and Gloir Fille of War Glory
Dosage: 2-2-17-6-3 (30)
Dosage Index / CD: 0.71 / -0.20



Notes:

Decidedly is a California based thoroughbr ed racehorse foaled in 1959. In 1962 he won Kentucky Derby in style. Bill Hartack galloped Decidedly to victory at the Ben Ali Handicap. In 1964, he posted two wins before going to serve at stud.

Facts
at 3 won Kentucky Derby; 2nd in Everglades S., Blue Grass S.
at 4 won Monmouth H., Ben Ali H., Dominion Day H.; 2nd in Michigan Mile and One-Sixteenth; 3rd in Grey Lag H.
owned by El Peco Ranch, bred by George A. Pope, Jr.