Delaware Park
777 Delaware Park Blvd.
Wilmington, Delaware, 19804
USA

(800)-41-SLOTS



---
Racing Dates: 2011-05-07 until 2011-11-05
Number of Racing Days: 136


---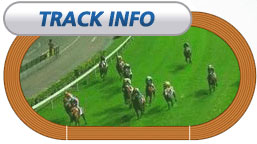 Track Length:
1 mile oval with six furlong and 1 1/4 mile chutes
Stretch Length:
995 feet
Stretch Width:
100 feet
Infield Capacity:
Clubhouse Capacity:
Grand Stand Capacity:
7500
Parking Capacity:
Price General Admission:
Price Clubhouse:
Price Turf Club:
Delaware Park History
The Delaware Horseracing Park facilitates thoroughbred horseracing meet in Wilmington, Delaware in two separate tracks. Annual meet in this racetrack starts in late April every year and continues through November. Delaware Park Racing is considered as one of the most significant racetracks in the Delaware Valley area; it hosts many stakes including the Delaware Handicap, the Delaware Oaks, the Light Hearted Handicap and the Ending Handicap.
In the year 1933, legislation was passed for creating the Delaware Racing Commission in spite of the protests from the traditional conservatives against horseracing in the state. It took only two more years to grant license for pari-mutuel betting and wagering within the limits of the law. Delaware Park Racing was set in motion for the general public on June 26, 1937. Initially, there was an open-air, 7500-seat grandstand with a multi-tired clubhouse — in due course of years; developments took place in many phases. At that time, the track was a one-mile dirt oval with a pair of steeplechase turf course and the backstretch had a stable with capacity of holding 1226 horses.
During the Second World War, the racetrack was closed for a couple of years and in 1944, the track reopened. A $2.8 million renovation work was undertaken in 1958 to enlarge the existing grandstand and clubhouse. From the 1960 onwards, Delaware Park racing became popular among the visitors coming from Washington, Baltimore, Philadelphia and New York. Owing to financial difficulties in 1982, Delaware Park Racing had to stop for the next two years till Spring Meet of 1984. At the fag end of 1995, slots facilities were introduced that enhanced the park's on-site attraction.
More About Delaware Park
Snack bars located within the Clubhouse and picnic grove areas, BBQ, Legends, Deli, Sports Bar, Snack Bars, Beefstro, Rooneys, Del Cap Room, New Castle Room, Terrace Dining Room
How to get there: