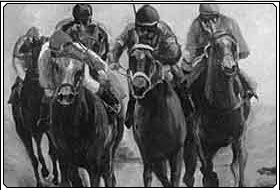 Funny Cide
Trainer:Barclay Tagg
Owner: Sackatoga Stable
Foaling Date: 2000-04-20
Pedigree: Distorted Humor and Belle's Good Cide of Slewacide
Dosage: 7-2-11-3-1 (24)
Dosage Index / CD: 1.53 / 0.46



Notes:

Funny Cide is a thoroughbr ed racehorse entertaini ng spectators with his stunning feats and astounding performanc e. He won both the Kentucky Derby and Preakness Stakes at a tender age of 3. The colt emerged winner at Aqueduct, Excelsior Breeders' Cup Handicap in 2004. He also clinched victory in Grade 1 Jockey Club Gold Cup in the same year. In 2006 at Woodbine he won the Grade 3 Dominion Day Stakes. Funny Cide lapped up 11 wins in his horseracin g career.