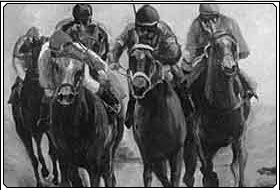 Lemon Drop Kid
Trainer:W. Elliott Walden
Owner: Prestonwood Farm
Foaling Date: May 30, 1995
Pedigree: Cryptoclearance and Victorious Lil. of Vice Regent
Dosage: 13-4-21-0-0 (38)
Dosage Index / CD: 2.62 / 0.79



Notes:

Victory Gallop was a thoroughbr ed race horse who was foaled in May 30, 1995 in Ontario, Canada. Sired by Cryptoclea rance, his dam is Victorious Lil. He began his career at the age of two. In the year 1998 he won Rebel Stakes and Arkansas Derby. When Victory Gallop was four years old he was victorious in Stephen Foster Handicap and Whitney Handicap in 1999 in United States. 1999 Eclipse Award for Outstandin g Older Male Horse He also stood third in Nad Al Sheba Racecourse in Dubai in that same year. His descendent s have also won many races. In 2008 he was sold to The Jockey Club of Turkey.