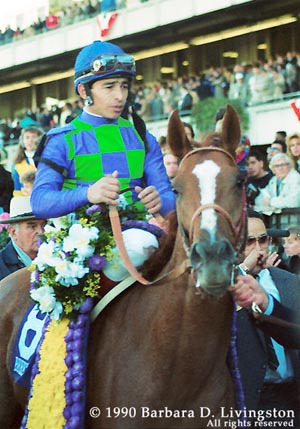 Meadow Star
Trainer:Leroy Jolley
Owner: Carl Icahn
Foaling Date: 1988
Pedigree: Meadowlake and Inreality Star of In Reality
Dosage: 15-11-10-0-0 (36)
Dosage Index / CD: 6.20 / 1.14



Notes:

Meadow Star excelled in the horseracin g tracks. The American Thoroughbr ed Champion racehorse started racing at the age of 2 in 1990 at New York's Belmont Park. Meadow Star was awarded the Eclipse Award in 1990 for her brilliant performanc e and undefeated wins in the horseracin g tracks. The audience heavily bet on Meadow Star in the 1990 Breeders' Cup Juvenile Fillies. Winning streaks flashed across the destiny of Meadow Star in the first 2 races of 1991. She made her presence felt at Wood Memorial Stakes finishing 4th after racing amongst male horses. This Florida foaled filly breathed her last in 2002, while she was in the process of delivering a foal.