Oak Tree @ Santa Anita
285 W Huntington Drive
Arcadia, California, 91007
USA

(626)-574-7223
(626)-446-8501


---
Racing Dates: 2011-09-28 until 2011-11-06
Number of Racing Days:


---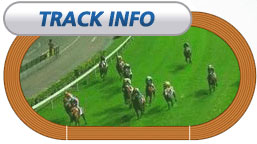 Track Length:
1 Mile
Stretch Length:
Stretch Width:
Infield Capacity:
50000
Clubhouse Capacity:
Grand Stand Capacity:
26000
Parking Capacity:
Price General Admission:
$5.00
Price Clubhouse:
$8.50
Price Turf Club:
Oak Tree @ Santa Anita History
Santa Anita Park that was established in 1934 is the oldest racetrack of Southern California. Santa Anita Handicap earned the nickname – the 'Big Cap' due to its large amount of purse handling; it was raced for the first time in Santa Anita Park during February 1935. Photo finish technique was implemented in those early years at Santa Anita for recording dead heats. Seabiscuit, one of the popular horses in this racetrack, won the Santa Anita Handicap in 1940 even at his last start. Between the years – 1942 and 1945, Santa Anita was used as a camp for Japanese-Americans. The 1960s brought about a major renovation of Santa Anita Park, including a much-expanded grandstand as well as major seating additions. During summer Olympics of 1984, Santa Anita was used as the site of equestrian events. The Santa Anita horseracing event draws massive crowds every year. As soon as the renovation work of the Santa Anita Park was completed, a group of horsemen including Clement Hirsch established the non-profit Oak Tree Racing Association. During that time, Oak Tree eventually had no facilities – and rented Santa Anita Park for an autumn meeting in 1969. Since then, Oak Tree has been operating the autumn meet – stretching from the end of September to the middle of November - at Santa Anita Park. Many big events take place during this time including preparatory races for the Breeders' Cup. Oak Tree has been privileged in organizing Breeders' Cup on three occasions – in 1986,1993 and 2003; interestingly this venue has also been chosen for the 2008 and 2009 Breeders' Cup races.
More About Oak Tree @ Santa Anita
Food and beverage; clocker corner; The Terrace Food Court; Quick Service; Sirona: variety of salads, sandwiches, stone oven-baked pizzas, juicy half-pound burgers and delicious desserts; prices range from $6.00 to $10.00; seating capacity is 200; Turf Club Terrace is a delightful open-air restaurant; gifts for the home; hotels and restaurants.
How to get there:
Santa Anita Park is situated in Arcadia California known as a residential community and is 14 miles northeast of downtown Los Angeles. The racetrack is of 320 acres and is bounded by Huntington Drive, Baldwin Avenue, Colorado Street, and Colorado Place. The Santa Anita Fashion Park mall is situated on the southwest of the racetrack. Major freeways giving access to Santa Anita are the Foothill Freeway (I-210) on the north, San Bernardino Freeway (I-10) on the south, the San Gabriel River (I-605), Orange (57) Freeways on the east and the Pasadena (110) and Glendale (2) Freeways on the west. Santa Anita is 30 miles from the Los Angeles International Airport. To reach Santa Anita from LAX, take the Century Freeway (105) east to the Harbor Freeway (110). After that, take the Harbor Freeway north to Orange Grove in Pasadena. Turn left on Orange Grove and take it to the I-210 Freeway east. Exit at Baldwin and turn right. Hollywood-Burbank Airport is nearly 21 miles away from the racetrack. To come to Santa Anita from the Airport, you need to take the Golden State Freeway (I-5) south to the 134 Freeway East. The 134 will become the I-210 Freeway east. Exit at Baldwin and turn right. Santa Anita is 37 miles from the Ontario Airport. To reach Santa Anita from the airport, take the San Bernardino Freeway (I-10) west to the I210 Freeway west. Exit at Baldwin. Turn right on Foothill and right again on Baldwin. Santa Anita offers General ($4), Preferred ($6) and Valet ($10) parking during live racing. During the satellite wagering season, general, preferred, and valet parking are available.