Pleasanton
4501 Pleasanton Avenue
Pleasanton, California, 94566
USA

(916)-263-3340
(916)-263-3349


---
Racing Dates: 2011-06-22 until 2011-07-10
Number of Racing Days:


---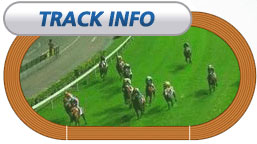 Track Length:
1 Mile
Stretch Length:
Stretch Width:
Infield Capacity:
Clubhouse Capacity:
Grand Stand Capacity:
6608
Parking Capacity:
Price General Admission:
Price Clubhouse:
Free with fair admission
Price Turf Club:
Pleasanton History
California fair is regarded as the heart of horseracing in western part of the United States. Since the early days of exploration and settlement, people have come together at certain times of the year to enjoy the festival of a season, the anniversary of a place, or the celebration of a special event. When people came together for these occasions, they came by horseback. They came to eat, drink, visit, look around, play, and have a little fun... and to see who had the fastest horse. This is the historical legacy of the fairs of California Horse racing and fairs share a particularly special partnership.
More About Pleasanton
Fair, Alameda County Fair (Pleasanton)
How to get there: