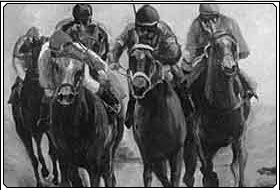 Real Quiet
Trainer:Bob Baffert
Owner: Mike Pegram
Foaling Date: 1995-03-07
Pedigree: Quiet American and Really Blue of Believe It
Dosage: 14-12-12-0-0 (38)
Dosage Index / CD: 5.33 / 1.05



Notes:

Real Quiet is a Florida based thoroughbr ed racehorse. This bay stallion began his horseracin g career in 1997 at the age of 2. After competing in 7 races he emerged victorious in Hollywood Futurity, Grade I. He won the prestigiou s Kentucky Derby in 1998, followed by Preakness Stakes. But he missed the Triple Crown by losing to Victory Gallop in the Belmont Stakes. But his stunning feats left the spectators spellbound and he was awarded the Eclipse Award for 3-year-old colt. Real Quiet also clinched the top position in Pimlico Special and Hollywood Gold Cup. He also managed to post 3rd spot in Massachuse tts Handicap at Suffolk Downs. In New Orleans Handicap he clinched the 2nd spot. After retiring from horseracin g, Real Quiet started serving stud in Nicholasvi lle, Kentucky at Taylor Made Farm in 2003.