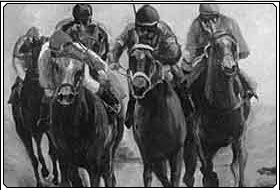 Ruler On Ice
Trainer:Liberation Farm & Brandywine Farm
Owner: George and Lori Hall
Foaling Date: 2008-02-25
Pedigree: ROMAN RULER and CHAMPAGNE GLOW of SARATOGA SIX
Dosage: 6-1-9-0-0 (16)
Dosage Index / CD: 2.56 / 0.81



Notes:

It is a horse bred by Roman Ruler-Cham pagne Glow. Its sire is Roman Ruler and dam is Champagne Glow. Its owners are George and Lori Hall. At the age of 3 it ranked 3rd in the Sunland Derby.
Statistics

| Year | Races Run | Wins | Place | Show | Earnings |
| --- | --- | --- | --- | --- | --- |
| 2011 | 3 | 1 | 1 | 1 | $96,000 |