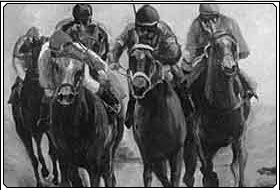 Silver Charm
Trainer:Bob Baffert
Owner: Bob & Beverly Lewis
Foaling Date: 1994
Pedigree: Silver Buck and Bonnie's Poker of Poker
Dosage: 3-5-17-5-0 (30)
Dosage Index / CD: 1.22 / 0.20



Notes:

Silver Charm is a thoroughbr ed racehorse. Bob Baffert trained this gray stallion to victory in Preakness Stakes and Kentucky Derby in 1997. However, in Belmont Stakes Touch Gold beat him to clinch the crown. Considerin g his performanc e, he was awarded the Eclipse Award for Outstandin g 3-yr-old male horse. Silver Charm is the proud winner of Dubai World Cup iheld in 1998. He has served as stud in Three Chimneys Farm, Shizunai Stallion Station and Shichinohe Stallion Station.