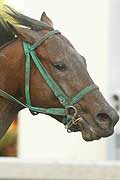 Smooth Air
Trainer:Bennie Stutts Jr.
Owner: Mount Joy Stables, Inc.
Foaling Date: 2005-03-12
Pedigree: Smooth Jazz and Air France of French Deputy
Dosage: 4-0-4-0-0 (8)
Dosage Index / CD: 3.00 / 1.00



Notes:

Smooth Air, though runs depending on speed, has a great chance of making a mark in the ensuing Kentucky Derby. It is originally a Florida-br ed colt that honestly performs to finish the distance. It is from the first generation horse of Grade 2 winner Smooth Jazz. The second dam of Smooth Air, Twin Propeller captured the six-furlon g Thelma Stakes at Fair Grounds. Smooth Air has proven his ability in the ten furlongs distance category but is expected to prove his mettle outside his reach that allows his breeding.
Statistics

| Year | Races Run | Wins | Place | Show | Earnings |
| --- | --- | --- | --- | --- | --- |
| 2009 | 5 | 1 | 3 | - | $380,000 |
| 2008 | 8 | 3 | 1 | 2 | $664,000 |