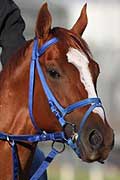 Summer Bird
Trainer:Tim Ice
Owner: Dr. K. K. Jayaraman & Dr. V. Devi Jayaraman
Foaling Date: 2006-04-07
Pedigree: Birdstone and Hong Kong Squall of Summer Squall
Dosage: 4-4-7-1-0 (16)
Dosage Index / CD: 2.56 / 0.69



Notes:

The 3 year old colt, Summer Bird commenced 2009 making his 1st start on 1st March at Maiden Special Weight in Oaklawn Park. He managed a 4th spot running the race with a purse value of $34K. He clinched the top position in another Maiden Special Weight at Oaklawn Park on 19th March. On 11th April, he managed the 3rd position in grade II Arkansas Derby behind Papa Clem. The 2 year old Summer Bird remained unraced in 2008.He has 3 starts and earnings are $123,040. Summer Bird is trained under the expert hands of Tim A. Ice. He has lots of ability and will run for a longer duration. He has the ability to run the last quarter in :24 and change. Summer Bird managed the 6th position in Kentucky Derby. Trainer, Tim Ice has high hopes on the colt. Summer Bird won the Belmont Stakes 2009 finishing by 2 3/4 lengths ahead of Dunkirk. The colt won $600,000 covering 1 1/2 miles in record time 2:27.54.
Statistics

| Year | Races Run | Wins | Place | Show | Earnings |
| --- | --- | --- | --- | --- | --- |
| 2009 | 9 | 4 | 1 | 1 | $2,323,040 |