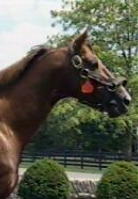 Tabasco Cat
Trainer:D. Wayne Lukas
Owner: Overbrook Farm
Foaling Date: -
Pedigree: Storm Cat and Barbicue Sauce of Sauce Boat
Dosage: 7-5-7-1-0 (20)
Dosage Index / CD: 3.44 / 0.90



Notes:

Tabasco Cat was an American Thoroughbr ed racehorse. His sire was Storm Cat and his dam was Barbicue Sauce. At age two he won in the Fort Springs Stakes at Keeneland Race Course. In 1993 he ran his last race he came third at in the Breeders\ ' Cup Juvenile. In the triple crown series he won San Rafael Stakes and the El Camino Real Derby. Tabasco Cat won in the U.S. Triple Crown series, capturing both the Belmont Stakes at Belmont Park and Preakness Stakes at Pimlico Race Course.He finally died at the age of thirteen from a heart attack.