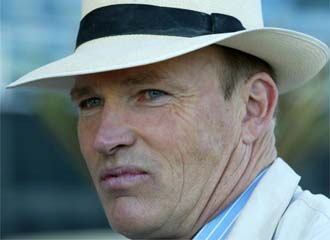 Born:
1951-03-30
-
Sussex United Kingdom

Currently Residing:
Newmarket
Suffolk United Kingdom

wife Rachel Hood, four children

Notes:
John Gosden is a thoroughbr ed horse trainer.In 1979, he attained the American Horse Training license. He trained a handicap horse, Bates Motel in 1983. In 1984, he trained a turf mare, Royal Heroine. a turf mare. In 1984, Royal Heroine won Breeder\'s Cup Mile. Bates Motel and Royal Heroine won the Eclipse Award. In 1988, he moved back to Newmarket, England, and trained horses at Stanley House Stables. In 1996, he rode Shantou to victory in the St. Legar Stakes, a British Classic. Benny the Dip, won the Epsom Derby in 1997. In 1999, he accepted Robert Sangster\' s offer to work at the Manton Complex. Fleeting sprinter Lahan, won the 1,000 Guineas Stakes in 2000. Gosden won 2 group 1 races in 2008 - Ravens Pass posted win in the QEII Stakes whileRainb ow View clinched the top position in Fillies Mile. He trained Raven\'s Pass, winner of Breeders\' Cup Classic at Santa Anita Park in October 2008.
Facts
Some of his renowned performers include Muhtarram, Observatory, Oasis Dream, Ryafan and Wolfhound. Nannina brought him success in the 2005 Fillies' Mile and the 2006 Coronation Stakes and he accumulated fifty-one wins from 258 starts till the middle of October 2006.