Welcome to the Triple Crown Triple Your Winnings FREE BET Extravaganza!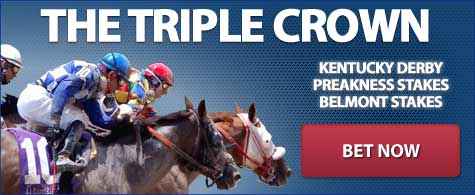 The wagers are up and waiting for you make your free horse pick for the 2013 Triple Crown races. The Triple Crown races include:

The 139th running of the Kentucky Derby on May 4th, 2013
The 138th running of the Preakness Stakes on May 18th, 2013
The 145th running of the Belmont Stakes on June 8th, 2013
Go Horse Betting is offering you a chance to win FREE MONEY with a FREE TRIPLE CROWN BET for each of the Triple Crown races.
Not a member? JOIN NOW to get your Triple Crown Triple Wager! That's one free bet on each of the Triple Crown races.
Members are permitted to wager on one side of each of the Triple Crown Free Bets. Simply place your bet on the Winning Saddle Cloth number is odd or even of any or all races and when you win your money will be doubled, should your wager lose your $10 Free Bet will be refunded to your account.
You can't go wrong with these three easy steps:
Pick your Winning Saddle Cloth number is odd or even for each of the Triple Crown Races
When you win, your winnings will be doubled!
If you lose, your $10 will be refunded back to your account
Vist the Horse Betting tab in the sportsbook to make your online horse wager today.
Please note: Wagering on both sides of any or all free bets will result in a forfeit of funds and possible account closure. Your account will be debited for each bet at the time of your pick(s). Once the race(s) is over, you will get your free money or the money you bet will be returned to your account. Good luck and enjoy the races!
Here are the betting options for your Triple Crown Double Your Winnings FREE BET Extravaganza:
The 139th Kentucky Derby $10.00 Free Bet
Saturday, May 4, 2013 6:30 p.m.
Winning Saddle Cloth number is odd or even:
The 138th Preakness Stakes $10.00 Free Bet
Saturday, May 18, 2013 6:30 p.m.
Winning Saddle Cloth number is odd or even:
The 145th Belmont Stakes $10.00 Free Bet
Saturday, June 8, 2013 6:00 p.m.
Winning Saddle Cloth number is odd or even:
Log in and visit Sportsbook for the latest $10.00 Free Bet Odds